Maths About the House!
Maths is all around us and most of the time we don't even notice! So this page is all about the conversations, ideas and activities that we have showing that it's easy to think mathematically, see and connect with maths without having to sit and do a worksheet!
Make your own Sundial!
Well this just looks like a fun idea...
Supermarket Cashier App
So thank you to Hannah G at work, who found this fun shopping app called Supermarket Cashier. There are different levels and you can learn to add and work out change!
Eating "out" eating in
For my husband's birthday my daughter's made a restaurant in our dining room and cooked us dinner - made signs and a menu! There was so much great maths involved - timings and sequencing in particular. But this could be made much more "mathsey" by adding prices to the menu and getting them to work out the bill - this could be made as simple as a cold drink and a snack but a grown-up role play is such a fun way to get them engaged and they love doing it!
Make your own Hourglass
This is the functional challenge this week and we've had a go at making one of our own using orbeez. It's pretty fun and as discussed on
the maths homepage, timers are a fantastic visual reminder of time passing. Pupils can use it for a variety of reasons and find them reassuring because they can make sense of an abstract concept. Here's a photo of mine and a video which I used to make it!
Food label top trumps
There is so many good mathematical conversations which can come out of a food label. In fact we sometimes play a silly game as a family which is rather like a "food label top trumps"! If we have all bought different things to eat - this might be sandwiches, crisps, drinks, chocolate bars - then we pick a category and see who "wins". Unlike top trumps, the winner is the one with the smaller number!
Lock a Block
So I haven't put many posts up which have prompted to buy anything but I have to say that after buying this puzzle and it causing many hours of fun for my 3 year old, 9 year old, 11 year old and me and my husband - this really is a fantastic buy. I took a photo when I completed the hardest level as it had taken me 3 nights of trying! Here's the link to the website where you can buy this one but there are plenty of games which use pentominoes or tetris shapes.
Would you rather?
Here's a fun take on a well known game...
Asking children to choose between two similar things and asking them to explain their choice. Using one for time is a great example and the best thing is there is no real answer as there are advantages to both situations. The main mathematical benefit is justification - being able to explain your answer...reason. Here's a couple which you could adapt and try...
Previous Posts
Week

commencin

g

11/05/2020
Wonders of the Weather!
So it struck me as I started to chat with my daughter about whether we would be going for a bike ride because of the likelihood of rain and also what clothes would be best as it was feeling chilly, that it can be easy to ignore how much maths was in the conversation. We discussed temperature, probability and I found it fascinating that we have had the driest April on record. The weather is an amazing tool to get young people to understand negative numbers, chance (probability), reading charts, graphs and tables, percentage, speed, compass directions, days of the week, 24-hour clock, months of the year, seasons of the year and thinking about different ways to measure and record things like rainfall, pollen, wind and snow.
Have a look at these snaps and see if you can answer the questions above them...
What day of the week does this chart show?

What time does it refer to?

What is the temperature going to be in London?

What is the most northern location marked?

What is the most southern location marked?
What is the highest temperature you can see?

What is the lowest temperature you can see?

What is the weather going to be like in Cardiff on Tuesday?

What is the temperature going to be in London on Friday?

How many days of the week are they likely to have sun in Belfast?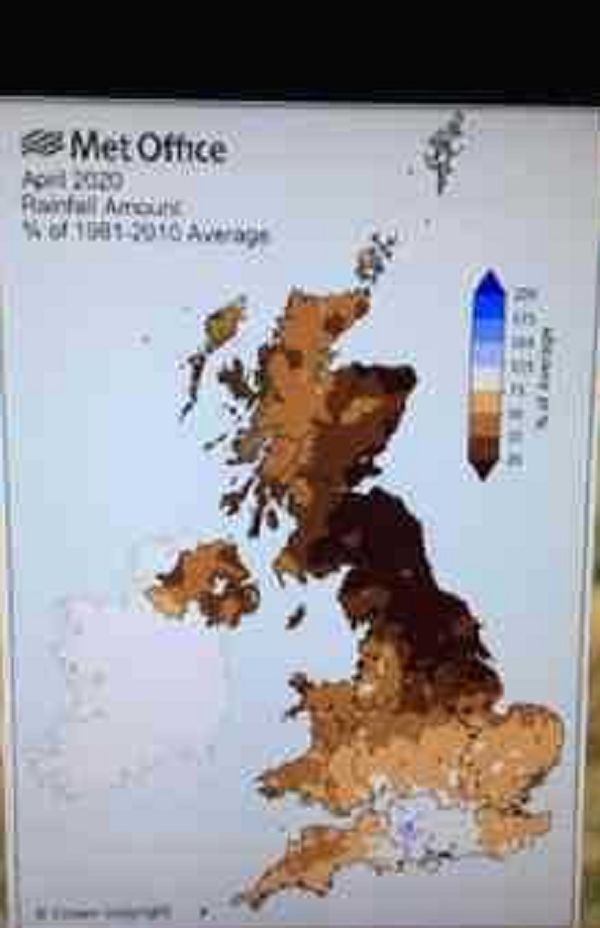 This shows that over April the South had less rainfall on average compared to the North.
Learning to budget
I'm sure for most people this is one of the trickiest things we ever have to learn! Starting to teach the value of money by allowing young people some freedom over their finances is one way that something fairly abstract (value of currency) can be made more real. We regularly go shopping as a family and talking about how much things cost and being strict about not "topping up" the amount of money they have to spend is really important when getting them to understand the value of coins/notes. My daughter has learnt the wonders of Amazon as a way to think about budgeting. Her Granny gave her £10 to spend and as we are in lockdown I suggested that she brows Amazon for the things that she wanted to buy. This provoked lots of lovely maths - if she bought a pair of earrings for £7, how much would she have left? How much would something cost with shipping? Was it better to save the money because she saw a giant squishy for £13 that she liked? How much would she need to save to buy the giant squishy?
Anyway...after a fairly long deliberation she settled for these two things....and was delighted when they arrived! I have to say, I was impressed she found earrings for 39p! Another good talking point when I said that a chocolate bar would usually cost 50p!
DIALING AROUND THE HOUSE
So this was a fun little activity...
We searched our house for all the dials we could find. Then we looked and thought about which one had a scale and what the scales were for. So then we had two types of dials...the ones which were operational and then ones which were scaling something! This is what we came up with - can you recognise what they are from? Do you have them in your home? How many can you find in your house?
OPERATIONAL DIALS DIALS WITH SCALES
ANY excuse for Pizza Night!
Well this is a super common and super easy one to get into everyday life
- the concept of fractions as splitting. The most important part about the conversations
is the idea that if something is split in two but not split equally, then this is not a half. Splitting food and asking "is this half?" "is this a third?" or "is this a quarter" and talking about why it is or is not is such an important part of a child's basic number sense and something which can be done multiple times every single day!
Week commencing 04/05/2020
Chalk up a Challenge!
So whilst we are in lockdown I have seen some lovely challenges on our daily walks, made out of chalk. Then Miss Thatcher suggested trying to do a multiplication hopscotch so why not have a go at making a chalk course but include a little multiplication hopscotch as well? Here's a couple my daughter's did outside our house for the 2 and 3 times tables...
Or why not ask them to have a go at doing some multiplication flowers on the floor...here's an example...
Maths through the letterbox
So last week we talked about milk carton maths but what about the maths that comes through your letter box? Have you ever thought about the maths which is on a stamp?
Have a look at this picture and think about answering these questions....
How much did it cost to send?

What date was it sent?

How would you write this date long-hand? (day, date, month, year in words)

What is the size of the parcel?

What is the weight of the parcel in kg?

What would the weight of the parcel be in grams?
Out and about estimations...
This week is measures week so I've included a couple of posts particularly to do with measures. Estimation is a really important skill to practice and something which can be done really easily around and about. Here's an example...
How many benches wide do you think this weir is?
You can estimate all sorts...in our how a popular and silly game is guess the nutrients in food. We use the back of packets and we all have to get the amount of certain nutrients in food, from salt content, to calorie content to the amount of carbohydrate or protein - it's a bit of fun but can be informative and interesting too!
Always time to wonder...
Time is something that can be tricky to understand so the more we bring aspects on time into our daily lives the better. This includes talking about dates, about the hour of the day, the season and months of the year as well as going over how to tell the time on a digital or analogue clock. So one thing which is great to do is "wondering" which needs some working out. For example, I wonder how many days are left in the month? You could use a calendar to work it out. Here's a little question for you to think about...

There are 44,640 minutes in a month
Never enough baking!
So as I have posted before, there is ALWAYS time for a bit of baking in our house. Here are a couple of my daughter's creations - and as an extra estimation...how many mini-biscuits long do you think the giant gingerbread is?! We have also been enjoying making some smoothies....why not try this yummy recipe for a superhero smoothie!Superhero Smoothie!
Bowl yourself out!
So we have started to play lots of games of skittles in our house!
As you can see from the photo we have collected a few sets over the years so
it's fantastic for helping with counting skills! If you don't have any sets of your own - why not make your own using toilet roll or paper towel rolls? It's lots of fun and you can make it a bit more challenging by putting some different scores on the rolls so that it's not just the number of skittle you knock down but the score you get as well!
Week commencing 27/04/20
Milk Carton Maths!
We drink a lot of milk in our house. In fact we seem to drink and eat a lot of food generally, especially since being in the house so much more! But there is LOADS of fantastic maths hidden in the milk carton - see if you can find the answers to some of these questions by looking at a milk carton....
1. How much is in the carton?
2. What temperature should it be kept below?
3. What is the use by date?
4. Per 100ml how much fat does it contain?
5. It says to use it within 3 days of opening. If I opened it on Monday,
could we still drink it on Friday?
6. Look at the use by date - how long ago was this?
Recycling - good for some Maths as well as the environment!
Miss Thatcher has been doing some sorting at home with her daughter! She loves to sort out the different types of materials which is some great science and maths mixed together! Talking about the properties of the materials as well as the shapes they find...teaching the correct vocabulary when you see it at home can be really beneficial to their learning so try and use words like round, flat, cube, cuboid, sphere, circle, triangle, pyramid, prism, edge, vertices, faces. This might feel unusual to begin with but you might be surprised how quickly it becomes part of the way you talk and can really help when learning about shapes in school.
Just a bit of cheese......!
It's been tricky to get a delivery slot for supermarkets so we have been ordering from a wholesaler who has started to make retail sales. We ordered some cheese and when it turned up we definitely has LOTS of discussions about size and mass - take a look at the photo below and you will see why! But you can do this all around your house - making comparison questions about mass (weight), length, capacity (volume), temperature or more general size - big or small, lots or few, it's all good maths!
So how much do you think I bought? Try taking the poll to see if you get it correct!